Rhiannon Marie Lyness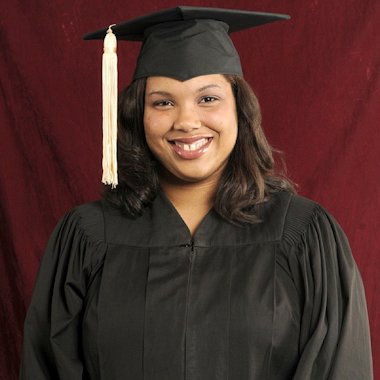 Mother: Velda Rae Roddy (1955-)
Born March 13, 1991, at Benton Harbor, Michigan.
Rhiannon attended Benton Harbor High, where she was active in Tiger Marching Band Pom Pons Squad, Lieutenant Governor for the Michigan District of Key Club International, Del-Teen, National Honor Society member. Rhiannon graduated from Benton Harbor High in 2009 with honors and was a member Union Memorial A.M.E. church.
Upon graduation from high school, Rhiannon enrolled at the University of Arkansas at Pine Bluff on a full-ride academic scholarship. After arriving on campus, Rhiannon took an interest in the marching band performances. This led her to auditioning for the 24 Karat Golden Silks flag line for the Marching Musical Machine of the Mid-South. Rhiannon also decided to apply for the nursing program in the spring of 2010. Unfortunately, the nursing program was suspended during this timeframe. Rhiannon continued at UAPB to finish her prerequisites but only for another nursing program. In May 2011, Rhiannon transferred to the University of Arkansas for Medical Sciences, College of Nursing. While attending UAMS, Rhiannon participated in various volunteer activities that advocate public health such as flu shot clinics and school screenings for hearing, vision, and scoliosis. Rhiannon also was the fundraising coordinator for her class and worked part-time at Arkansas Children's Hospital as a Patient Care Technician. Rhiannon graduated from University of Arkansas for Medical Sciences in May 2013 with her Bachelors of Science in Nursing.
After graduation, Rhiannon began a new role as a Pediatric Registered Nurse, specializing in the rehab union. Rhiannon had the pleasure of working with and inspiring children during their recovery from spinal cord and brain injuries after accidents. Rhiannon mentioned in this role, "The greatest joy of working with children is that kids want to get better, so they can get back to playing." Rhiannon enjoys working with these children and their families, being able to encourage them and help them cope through their injuries. Rhiannon enjoys seeing the progress of a child who has lost the ability to walk, talk or breathe on their own, and work through the rigorous process of regaining those abilities. It proves that life can change at any age.
In July 2015, Rhiannon moved into her new role as a Pediatric Traveling Nurse. In this role as a traveling nurse, Rhiannon knew that she would be moving around throughout the country but her passion superseded any reservations. Rhiannon's first location assignment was in Houston, Texas at Memorial Hermann Children's Hospital. Rhiannon loved this experience because she got an opportunity to experience different hospital settings and feels extremely blessed to be able to meet many people from different walks of life. Currently, Rhiannon is on her second assignment in San Diego, California at Rady's Children's Hospital.
---
Return to Lyness index page.
---
Modified February 14, 2016