Marguerite Arleen Doonan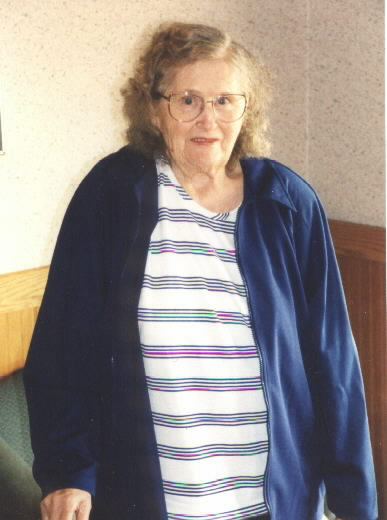 Father: Clarence Cecil Doonan (1893-1978)
Born March 20, 1919, at Great Bend, Barton County, Kansas.
Died June 26, 2009, at Great Bend, Barton County, Kansas.
Marguerite met her future husband in San Francisco a month or so before he was to ship out to Europe. She told him she was going to sign up into the army nurse corps. He told her that he wouldn't go any further in the relationship if she did. He shipped out. She signed up.
Their courtship was through the mail. They wanted 6 children and that's how many they had. Margurite returned and was discharged as the war was over. She visited her family and then went to New York City to meet Anthony's family and wait for him. He and his men were part of the occupying forces after the war was over. They freed at least one concentration camp.
They were married the day after he arrived home from the war. They then left for Great Bend by train for their honeymoon so he could meet her parents. When he saw Great Bend and the surrounding rural area he said "This is where we will raise our family" and that they weren't going back to New York. He only returned to New York one time, in 1982. He said they had made the right decision.
They experienced many hardships during their married life. Imagine a young Kansas farm girl who celebrated graduating from nursing school and going out on a trip with her friend Ruby who wanted to see her military boyfriend before he shipped out. Out of money, Marguerite signed up for a year contract At Women and Children's Mercy on the labor and delivery unit. She finished out that contract then enlisted.
The army nurses were scrubbing beds and walls when they started bringing in injured soldiers. Beds weren't even made and the nurses started throwing sheets on the bed for the war trauma injuries. The war involvement started a few days earlier than expected. Marguerite was responsible to go and tell the general the battle had started and the injured and dying were coming in. Marguerite provided nursing care to injured POWs as well as to American men with severe injuries and loss of limbs
Spouse: Anthony Peter McAnulla (August 22, 1918-September 8, 1996)
Married November 4, 1945, at New York, New York.
Children:
---
Return to Bowyer Index Page .
---
Modified March 12, 2022