Bertha Iona Bowyer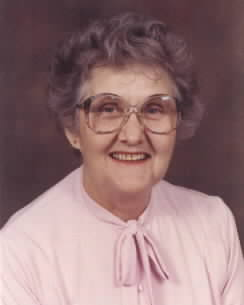 Born May 6, 1915, at Wright, Ford County, Kansas.
Died January 11, 1995 at St. Louis, Missouri.
Bertha was six when her mother died. Her sister, Cora, moved to the family home to care for the young siblings. Because that was too much stress for Cora, Bertha moved to the home of her sister, Mabel. A few years later, Mabel moved to Texas, and Bertha joined the home of her sister, Florence, near Wright, Kansas. At the age of 12, she made another move, to the home of Frank and Bertha Lyness. This move proved stable, and she was with Frank and Bertha until she felt a need to leave, six years after completing high school, in 1939. She worked for a while as a maid, babysitter, and waitress, to save money for nursing school. She enrolled in the nursing school at Grace Hospital in Hutchinson, Kansas. Upon completing nursing school, she was immediately inducted into the army, as World War II was under way.
After basic training, Bertha was assigned to a position as a surgical nurse, at a hospital in Algeria. September 1, 1943, her unit boarded the Duchess of Bedford, then the Acadia, and finally the Newfoundland, with the objective of being transferred to Italy. The Newfoundland was bombed. They were returned to Tunisia on the St. Andrews. In a second try, they were taken aboard a Landing Craft Infantry (LCI), which succeeded in delivering them to Salerno, Italy. In December, she contracted infectious hepatitis, but was cured and returned to duty.
Bertha met her future husband in the hospital, where he had come to visit another nurse. They visited the Leaning Tower of Pisa, where he proposed. She borrowed a wedding dress from an Italian lady whose husband had died in the war. They were married in a small Baptist church in Florence, Italy. After being married, they stayed in their respective duties until the war ended. After the war, they returned to St. Louis, where she worked as a surgical nurse, anesthetist nurse, floor nurse, camp nurse, office nurse, and public health nurse. She retired at the age of 65. Bertha and Glen are both buried in Memorial Park Cemetery in St. Louis, Missouri.
Spouse: Glen Wilbur Vosburgh (1915-1975)
Married March 3, 1945 at Florence, Italy.
Children:
M Thomas John Vosburgh (1947-)
F Donna Marie Vosburgh (1948-)
---
Return to Bowyer Index Page.
---
Revised August 10, 2019