Alfred Clarke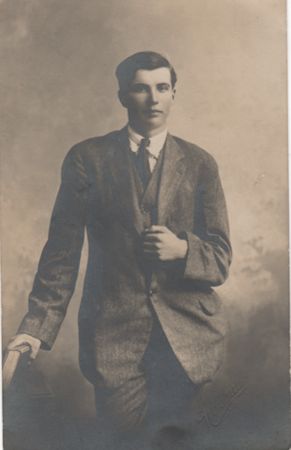 Born August 19, 1903, at Carn Grey, St. Austell, Cornwall, England.
Died January 22, 1980, at St. Austell, Cornwall..
After Alf left school at the age of thirteen, he went to work in the clay pits, tending the water hoses. He was not happy in this work, and quit after four years. Jobs were scarce, so after a while he decided to go to New Zealand. He asked Fred to go with him, and Fred was delighted to go. They were then 16 and 17 years old. It took them six weeks to get there, going through the Panama Canal.
They landed in Christchurch, and stayed a few days with Charles Trebilcock (a brother of Jack Trebilcock). They obtained work on sheep stations. Alf lived there about eight years and then returned to England. He took over a farm at Newlyn East, near Newquay, Cornwall.
Shortly after getting the farm (in 1930), he married Alice Mitchell (b. at Newlyn East, Cornwall, d. May 11, 1959, at St. Austell, Cornwall). They worked the farm for about 25 years, giving it up in the fall of 1955 and returning to Carn Grey to live. They had no children.
The picture was taken in New Zealand in 1923.
---
Return to Clarke Index Page.
---
Createde February 28, 2015