Nancy Kay Bartel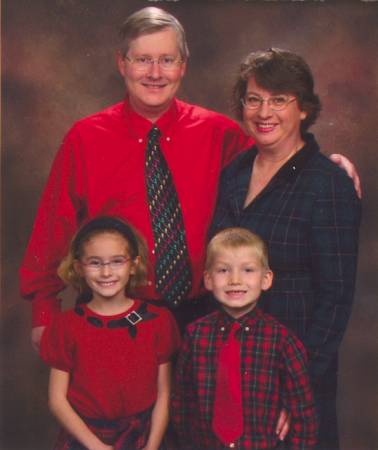 Craig, Nancy, Rachel, Daniel
Father: Ervin Ferdinand Bartel, Jr. (September 28, 1930-September 13, 1995)
Born June 28, 1960, at Detroit, Michigan.
Nancy moved with her family to California in 1966. She was awarded the Most Outstanding Student Volunteer Award at St. Joseph's Hospital in her senior year of high school. She went to Mount St. Mary's College and graduated in the nursing program at Pasadena Community College. She was a very sensitive and caring Christian and was most happy when doing things for others. She worked for the Visiting Nurses Association caring for people in their homes. She married Craig Eugene Larimer (b. October 3, 1960; son of Ralph Byron Larimer and Betty Jean Hart) October 26, 1996, at La Crescenta, Los Angeles County, California. They had the following children:
Rachel Doris Larimer (b. February 5, 1999, at Pasadena, California)
Daniel Ervin Larimer (b. June 28, 2001, at Pasadena, California)
---
Return to Clarke Index Page .
---
Revised December 10, 2007