Jane Elizabeth Bartel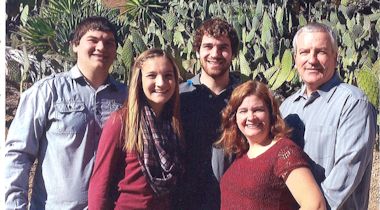 Christopher, Rebecca, Nathan, Jane, Dave
Father: Ervin Ferdinand Bartel, Jr. (September 28, 1930-September 13, 1995)
Born February 28, 1962, at Detroit, Michigan.
Jane moved with her family to California in 1966. She obtained a bachelors degree from California Polytechnic Institute at San Luis Obispo and a masters degree in counseling from La Verne University. She became a school teacher and taught at Placerita Junior High School in Newhall, California.
Jane married David Richey (b. July 5, 1963; son of John Harold ("Jack") Richey and Sandra Rush) on August 16, 1986, at Glendale, Los Angeles County, California. David was also a graduate of California Polytechnic Institute, and worked as a construction manager. Jane enjoyed reading and all kinds of handwork. They both liked to keep up their friendships and entertain in their home. They were charter members of the Santa Clarita Presbyterian Church, and were leaders of the junior high group at the church.
The family now lives in Brea, California.
Children:
Nathan Thomas Richey (1993-).
Christopher John Richey (1995-).
Rebecca Lynn Richey (1997-).
---
Return to Clarke Index Page .
---
Modified December 22, 2013