Julie Anne Skavdahl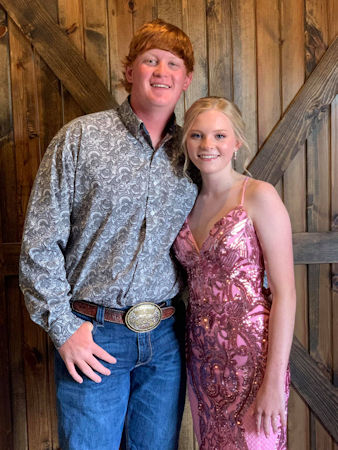 Mother: Jennifer Griner
Born 2003, at Scottsbluff, Scottsbluff County, Nebraska.
(June 2020): Julie Skavdahl, who will be a senior this fall at Sioux County High School, is this week's Nspire Today! Female Athlete of the Week, sponsored by Kristy Culek Agency, LLC-American Family Insurance. She competes in volleyball and track & field. Also at school, she's involved in History Day, speech, FFA, and National Honor Society. She also participates in the Methodist Church youth group. She has a 3.8 GPA. After high school, she plans to go to college. The colleges she's considering are Grinnell College in Iowa, Bowdoin College in Maine, and Amherst College in Massachusetts. She's leaning toward majoring in either history or English, and then she wants to advance to law school. Her parents are Jud and Jennifer Skavdahl. For being named an athlete of the week, Julie will receive a gift card for a free drink at Scooter's Coffee.
Julie later decided to attend Chadron State College in their Rural Law Opportunities Program, which normally leads to attendance at University of Nebraska College of Law.
---
Return to
Skavdahl Index Page
.
---
Modified June 8, 2021