Elizabeth Ann Skavdahl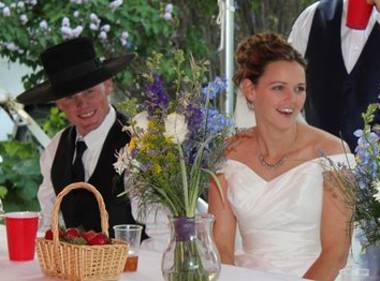 Jared and Lizzy
Mother: Maureen Vinton (25 August 1951-)
Born 27 July 1980, at Scottsbluff, Scottsbluff County, Nebraska.
Spouse: Jared Schroeder
Married 4 June 2011, at Crawford, Nebraska..
Liz obtained a bachelor's degree from University of Nebraska at Lincoln, and a DVM degree at Kansas State University.
She is a practicing veterinarian in Rawlins, Wyoming.
---
Return to Skavdahl Index Page.
---
Modified 06-Jun-2011