Helen Davis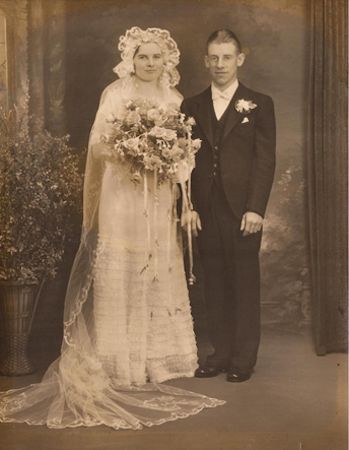 Helen and Charles at their wedding
Mother: Luce Turato (1891-1947)
Born 12 March 1914, in San Francisco, California.
Died 18 March 1996, of a heart attack.
Helen attended the nursing school at St. Mary's Hospital in San Francisco, but was not able to complete the program because she became engaged.
Spouse: Charles Rollet (1912-1945, in a motorcycle accident)
Children:
Charles Rollet, Jr. (1937-2007)
Judith Lucille Rollet (1940-)
Helen Rollet (1942-)
Spouse2: Harley Mann (1907-1971)
Spouse3: Marion Nixon (1903-1990)
Helen was active in many organizations: RSVP, Eagles, AARP, RSVP Advisory Board, Native Daughters of the Golden West, and the Cameo Club. At her death, she was survived by her three children, nine grandchildren, and five great-grandchildren.
---
Return to Galjanic home page.
---
Revised 14-Oct-2017