Albert George Hansford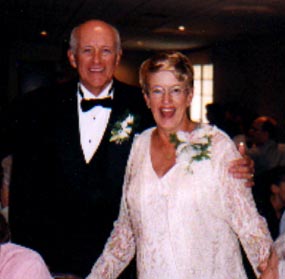 Ab and Betty
Mother: Buryl Perry
Born 1936.
Ab Hansford attended school in Norwood, a suburb of Winnipeg, Manitoba. He was an avid sports enthusiast, excelling at baseball and basketball. He was captain of a team in a Canadian basketball final, and spent two months in Florida at a pro baseball camp.
He was an insurance broker in Thunder Bay, Ontario, retiring in 1992. He married Alice Elizabeth Claire ("Betty") Brown (b. May 25, 1936; d. October 13, 2022) on May 30, 1959. They had the following children:
Diane Elizabeth Hansford (b. July 10, 1961).
Laura Jane Hansford (b. February 12, 1963).
Barbara Ann Hansford (b. July 19, 1968).
Ab was inducted into the Manitoba University basketball hall of fame in 2011, and into the Manitoba baseball hall of fame in 2013..
---
Return to
Hansford Index Page
.
---
Revised October 14, 2022