Doris Helen Hansford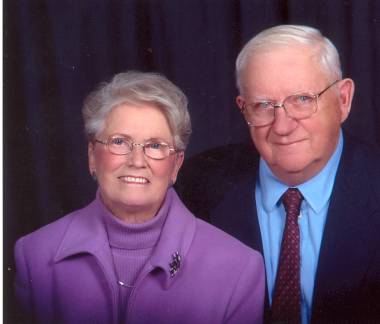 Doris and Bob
Mother: Gertrude Alice Smith (1902-October 29, 1940)
Born February 27, 1932, in Windsor, Ontario.
Died January 31, 2018, in London, Ontario
Doris graduated in nursing at Wellesley Hospital in Toronto in 1954. She worked for a while as an industrial nurse for Kimberly Clark Co. in Terrace Bay, Ontario, where she met her husband
Robert ("Bob") Biesenthal
(b. December 19, 1931, at Thunder Bay, Ontario; son of Robert August Ferdinand Biesenthal and Emily Sutherland). He was of German ancestry. They were married on August 3, 1957, at Thornhill United Church (near Toronto). Bob returned to school at age 28 when they moved to Phoenix, Arizona. Doris continued to work as a nurse, and three years later Bob graduated with a B. Sc. from Arizona State University. Bob then went on to the University of Tennessee Medical Units in Memphis, Tennessee, graduating in 1965 with a D.D.S. degree.
While in Tennessee, Doris worked as a nursing supervisor at Methodist Hospital. They moved to Toronto for one year and then to London in 1967, where Bob opened his own dental practice. Bob spent one day a week at the University of Western Ontario teaching children's dentistry. Doris managed the dental office for a number of years, until they retired in May, 1989. Doris and Bob enjoyed cottage life at Bayfield, Ontario, on Lake Huron during summers. They enjoyed travel, golf, politics, and friendships. Bob was an avid hunter and fisherman. Doris was active in the United Church of Canada. Bob and Doris lived just two doors from her brother Don in London.
Doris and Bob had the following child:
---
Return to Hansford Index Page.
---
Revised January 31, 2018