Signe Alfrida Rostad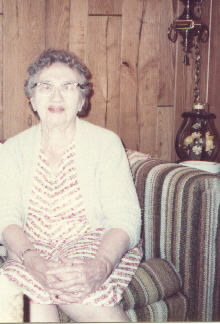 Father: Peder Andreas Andreasen (1850-)
Born February 18, 1893
Died 1988 at Kenyon, Minnesota
Spouse: Olaf Oian (1895-1969)
Married January 17, 1918.
Signe and her sister, Tora, left Norway together and went to Canada to stay with relatives. About a year later, they moved to Minneapolis, Minnesota. Her husband, Olaf Oian, worked as a boilermaker. Their marriage certificate was witnessed by her sister, Tora A. Rostad, and Peter A. Rostad. They lived most of their lives in Minneapolis, Minnesota, before retiring in Prior Lake, Minnesota.
Children:
M Norman Floyd Oian (1918-2003)
F Thelma Mildred Oian (1920-)
M Harold Sylvester Oian (1922-2006)
---
Return to
Skavdahl Index Page
.
---
Revised 13-Jun-2006