Harold Skavdahl
Click here for pictures of descendants of Harold and Ellen.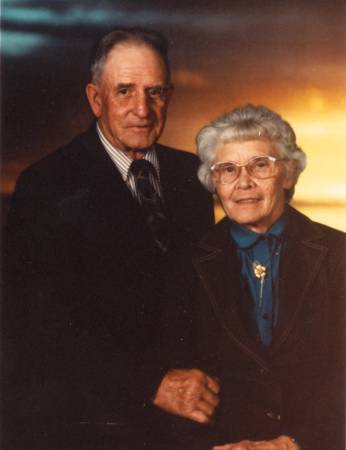 Harold and Ellen
Born 24 March 1910, at Harrison, Sioux County, Nebraska
Died January 29, 2004, in Sioux County, Nebraska
After graduating from Sioux County High School in 1929, Harold attended the University of Nebraska. Due to the Depression, but primarily his love for ranching, he returned to the ranch to work for his father. When his father leased out the ranch in 1938 he was out of a job.
He ran for Sioux County Sheriff and was elected in the fall of 1939. While serving as sheriff he became acquainted with the County Assessorís daughter. After receiving orders to report for duty in World War II, the County Sheriff and 18-year-old recent high school graduate Ellen Howard eloped to Harrisburg. A few days later, his orders to report were rescinded and he did not enter the service until April of 1942, after the attack on Pearl Harbor.
He was initially stationed at Lubbock, Texas, where his first son was born in December 1942. He then entered Officer Training School and upon graduation was stationed in the Panama Canal Zone. He was honorably discharged as a Captain in November of 1944.
In the spring of 1945 he and Ellen moved onto the old home ranch on the Niobrara River where they resided until their deaths.
He was a life-long member of the Harrison Memorial Methodist Church and managed the Lordís Herd, initially established by his mother, Grace. He served as a member of the Sioux County Board of Regents for twelve years. He was a longtime member of the Crawford Hereford Breeders Association and the Nebraska Hereford Breeders Association and was recognized as an outstanding producer and promoter of the Hereford Breed. In 1956 he was instrumental in raising the necessary matching funds to accomplish the paving of Highway 29 from Harrison to Mitchell.

Spouse: Ellen Josephine Howard (2 April 1924-29 November 1992)
Married 3 July 1941 at Harrisburg, Banner County, Nebraska.
Children:
M John Harold Skavdahl (22 December 1942-)
M William Thomas Skavdahl (4 September 1946-)
M James Leslie Skavdahl, (22 November 1949-)
M Phillip Howard Skavdahl (26 December 1953-)
M Donald Clark Skavdahl (5 March 1955-31 August 1956)
M Oscar Daniel Skavdahl (7 November 1959-)
M Charles Paul Skavdahl (4 October 1961-)
Return to Skavdahl Index Page.
---
Revised 19-Feb-2013