Howard Skavdahl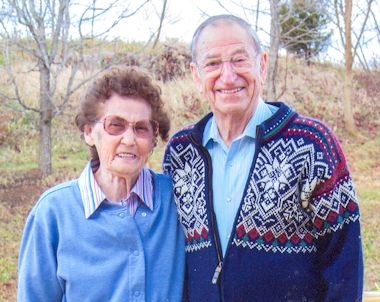 Howard and Jane
Born April 8, 1923, in Longmont, Boulder County, Colorado.
Died September 19, 2019, in Richland, Washington.
Howard graduated in 1940 from Sioux County High School. He then attended Midland College, Fremont, Nebraska, until interrupted by World War II.
He served in the United States Air Force as a weather officer in England, France, and Germany. After retiring from the service in 1946, he graduated from the Aeronautical Engineering School at the University of Colorado in Boulder, Colorado. He also obtained a master's degree from the California Institute of Technology, in Pasadena, California.
He worked for Sperry-Rand and the Rand Corporation from 1954 to 1961, and later was employed by the Boeing Commercial Airplane Company. At Boeing, he was the chief technical engineer for NASA on two airplanes, and worked on the 747, the 757, the 767, and the 777 propulsion systems. He was head of the Propulsion Research Department for ten years prior to his retirement.
Spouse: Eloise Hale Mitchell
Eloise was born March 26, 1924, at Edmonds, Snohomish County, Washington, and died February 1, 1989, at Lake Forest Park, King County, Washington
Married September 12, 1950, at Seattle, King County, Washington.
Children:
M Howard Kirby Skavdahl (1953-)
M William Hale Skavdahl (1957-)
M Jonathan Lowell Skavdahl (1962-)
Spouse2: Marcia Raquil Tatus (b. June 2, 1952, at Cordoba, Argentina
Married June, 1996, and divorced December 15, 1998.
Spouse3: Jane Holmgren (b. June 22, 1929, at Mitchell, Nebraska; d. July 20, 2016, in Denver, Colorado)
Married 1 February 2001, in Couer d'Alene, Idaho.
---
Return to Skavdahl Index Page.
---
Revised September 23, 2019