Frank Stanley Hansford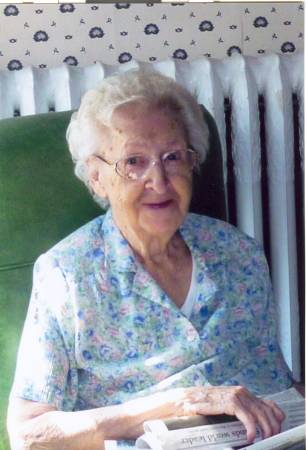 Althea Hansford in 2010
Mother: Elizabeth Jane Hambly (September 29, 1871-June 17, 1925)
Born October 12, 1905, at Torbrook Mines, Nova Scotia
Died February 24, 1985, at Coaticook, Quebec
Frank was a handsome little boy. He was stricken at five with polio, which left him lame. The family doctor would come from Middleton to stretch his legs. He would scream as they worked on him on the dining room table. He went to Windsor (where his brother Ralph was) to find work. He didn't succeed, so he went to Coaticook, and learned the monument business from his uncle, Richard Hambly. He became very skilled at drafting whatever was inscribed on the marble or granite. He married Althea Leona Bryan (b. September 9, 1910; d. April 30, 2016), a local girl, on October 12, 1933.
After he left the monument business, he worked in a furniture factory. He had an operation to remove a brain tumor shortly after the 1947 family reunion at Belmont Lake. He had Bell's palsy that disfigured his face. He took an active part in the Odd Fellows and the Coaticook United Church.

Frank and Althea had the following children:
Roy Allan Hansford (1942-2018).
June Audrey Hansford (1948-).
---
Return to
Hansford Index Page
.
---
Revised September 29, 2018