Bowyers in North America

Some Bowyer Descendants in 2013
The objective of this site is to record the known descendants of William Bowyer, a farmer in Adams County, Ohio, in the nineteenth century.
Dick Bowyer in England (as far as we know, not related to Dick Bowyer in Florida) has a wonderful Bowyer genealogy web site. Unfortunately, we have been unable to link genealogically between his Bowyers and our Bowyers.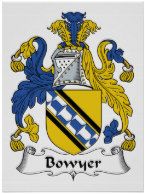 John Lehman has requested that we put a link on this page to his web site. If you click on the family crest image above, you should reach a website which provides the opportunity to buy products associated with that image. No recommendation or endorsement is implied. If you try it, please tell your webmaster about your experience.
Index of Descendants of William Bowyer
---
Revised March 10, 2019
---
Return to Bowyer home page.
---
Return to Bowyer-Lyness page.
---
Modified May 20, 2019